VisionNet VDC series Color Camera

Product Family: VDC-480, VDC-420, VDC-380, VDB-420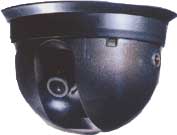 Fixed domes provide a popular means of monitoring a specific area in a more discreet manner than professional video camera. They also offer protection from tampering whilst preventing observers from detecting what area of surveillance the dome is covering.
Main Features
Built-in 3.6mm lens
This series is equipped with a 3.6mm lens, providing a large angle of view range: 75.9° to 37.8° (H), 56.4° to 28.4° (V). The main purpose of the design give user the minimum trouble of selecting the appropriate lens during installation.
AGC Automatically Gain Control
The AGC function adjust image sensor allowing a subject under low illumination to be distinguished more clearly. However, it lowers the image quality.
High picture quality and sensitivity
With 1/4" Sony CCD Image sensor, VPC series camera provide excellent image quality and resolution, achieving a horizontal resolution up to 480 TV lines, and ensuring excellent signal-to-noise ratio of 50 dB or more.
BLC (Back Light Compensation)
Strong backlight can often cause the subject of the picture to be cast into shadow. The BLC function automatically compensates for backlight conditions on the center of the picture to make the subject more easily visible by providing an improved level of object recognition.